Sale!
A pack of animated icons for After Effects and Premiere Pro.
Features:
Editable colors

Made of 100% After Effects layers

All Pack Manager features (fast preview, drag and drop import, favorites, etc.)

100 animated editable flat icons
1 min long animation
IN animation
LOOP animation
OUT animation
Icon resolution is 596×596 px but can be scaled to any size
Fast Render
High-speed download
Requirements:
After Effects CS6, CC 12, CC 2014, CC 2015, CC 2017, CC 2018, CC 2019 or CC 2020.
List of icons:
Artificial Intelligence
Attention
Battery
Blog
Boy
Brain
Calendar
Certificate
Charts
Checkbox
Cloud
Cloud Download
Cloud Fail
Cloud Success
Cloud Upload
Code
Cold
Compass
Compass (Nowhere 02)
Compass (Nowhere)
Controls
Cross
Cyborg
Diamond
Disks
Download
Download Upload
Drone
Dumbbell
Dumbbell (Heavy)
Dumbbell (Light)
Earth
Education
Facebook
Fingerprint
Fingerprint (Approved)
Fingerprint (Denied)
Girl
Handshake
Handshake (International)
Headphones
Heart
Heart Broken
Hot
Infinity
Instagram
Joystick 02
Key
Like
LinkedIn
Lock (Closed)
Lock (Closed-Open)
Lock (Open)
Magic (Forbidden)
Magic Wand
Mail
Mail (Spam)
Man
Map Mark
Map Marks
Medicine
Message
Messages
Money (Dollar)
Money (Euro)
Money (General)
Money Pig
Music
Notification
Notification (Turned off)
Percentage
Photo Camera
Photo Camera (Double)
Photo Camera (Forbidden)
Plane
Products
Question Mark
Resume
Server
Server (fail 01)
Server (fail 02)
Server (fail 03)
Settings
Share
Snapchat
Sound
Sound (Turned off)
Speaker
Support
Support 02
Time
Twitter
Upload
Vector
Video Camera
Video Camera (Forbidden)
Voice
Voice Silence
Woman
Zombie

| | |
| --- | --- |
| After Effects | CC 2015, CC 2017, CC 2018, CC 2019, CC 2020, CC 2021 or higher |
| Premiere Pro | CC 2021 or higher |
| Other Video Editors | FCPX (Final Cut Pro X), Davinci Resolve, Sony Vegas, Avid, Apple Motion & Motion 5, iMovie, OBS (Open Broadcaster Software), Filmora 9, Photoshop, and any other video-editing software in from of videos with transparent background or black background. |
| | |
| --- | --- |
| After Effects Resolution | 1920x1080 |
| After Effects FPS | 24 |
| After Effects Files Included | After Effects Project Files, Plugin Files |
| After Effects File Size | 25MB |
$39
Happy New Year Ends in:
Days Hours Minutes Seconds
Bundle and save $1786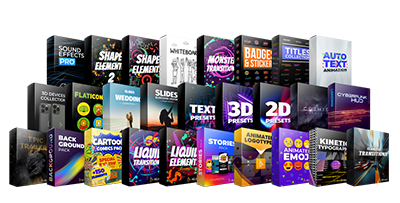 Add to cart $179