Sale!
A pack of 1600+ Seamless Transitions for After Effects and Premiere Pro 2021
Features:
NO Placeholders! Just Drag n Drop!

1600+ seamless transitions (Premiere Pro version has only 232 transitions at the moment)
Sound Effects built-in every transition
15 categories (Basic Transitions, Blur, Fade, FishEye, Flares, Form, Glitch, Hit, Lense, Offset, Pixelate, Shake, Stretch, Tab, Cursor, Warp)

All Pack Manager features (fast preview, drag and drop import, favorites, etc.)

High-speed download
New features from October (2019) update:
1400+ new transitions!
Find transitions faster with a new filter system – click on the direction ("Left", "Right", "Clockwise", etc.) and you'll see only transitions you need
Apply wiggle to all transitions in 1 click
3 new styles to give your transitions the best look
Apply motion blur to all transitions in 1 click, makes your transitions look cooler!
The new animate button will do the hard work for you! Select a layer or a lot of layers and press the animate button, it will pick transitions, apply them to your layers and adjust transitions on the timeline for you!
The new slides button will create a perfect slideshow with your music, photos, and videos in 1 minute. Your slideshow will be perfectly matched with your music. You can also create a slideshow for all platforms at once (Instagram, Facebook, YouTube) with a push of a button!
The reset button will return all settings to default
The new shortcut allows you to apply the animate button without even launching the plugin. It will help when you need a transition fast! You can even specify to only use transitions from your favorites!
New bounce transitions
New features from April (2020) update (watch video overview):
Added sound effects to every transition
90 separate transition sound effects for more in-depth customization
What resolutions are included:
FullHD – 1920×1080
HD – 1280×720
Vertical – 1080×1920
Instagram – 1080×1080
Instagram Ads – 1080×1350
GoPro – 2704×1520
DCP Flat – 1998×1080
DCP 4K Scope – 4096×1716
DCP 4K Flat – 3996×2160
DCP 2K Scope – 2048×858
4K UltraHD – 3840×2160
4K Full Frame – 4096×3072
4K DCI – 4096×2160
4K Academy – 3656×2664
6K – 6144×2592
Any custom resolution, drag n drop and the transition will auto-resize!
Categories:
Basic Transform
Blur
Displacement
Fade
FishEye
Flares
Flip
Form
Glitch
Hit
Lense
Offset
Perspective
Pixelate
Shake
Simplified
Stretch
Tap and Cursor
Target Zoom
Warp
Requirements:
After Effects CS6, CC 12, CC 2014, CC 2015, CC 2017, CC 2018, CC 2019 or CC 2020.
Important! Premiere Pro CC 2021

I love these products. These are perfect for me and easily customizable. I own almost everything they make and use them, virtually, in every project I create. Helps me make a little more money by saving me time.
Joseph Martin

Verified Buyer







Drag N Drop
Intuitive interface that just works as you expect!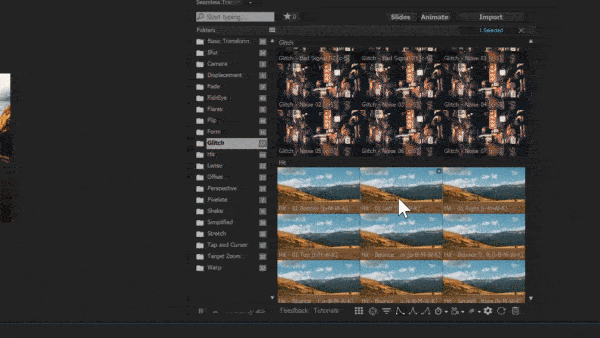 Perfect Timing. Always.
Adjust the transition to fit your scene perfectly.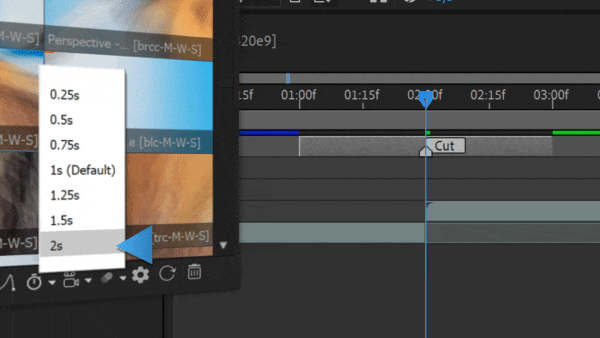 Your Transition Will Look Like It Was There From The Beginning
Adjust the ease to fit the movement in your scene and make the transition more natural!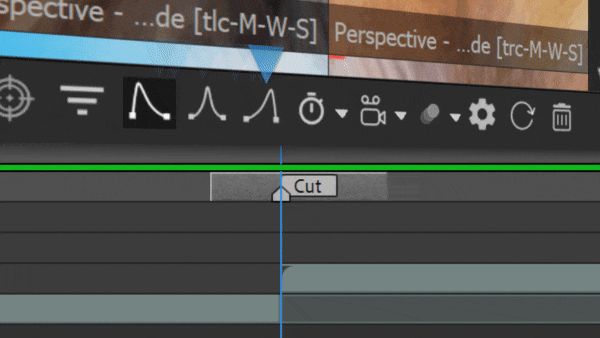 "Make it Awesome" Button
The magic button you always wanted! We spent months developing it! It is smart and animates your scene for you!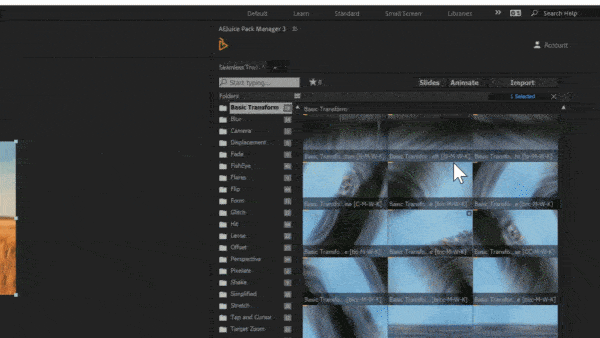 Secret Weapon On Demand
The plugin takes no space and you call it only when you need it!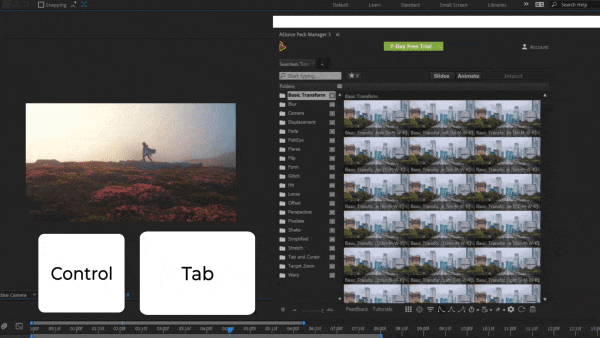 Shake It!
Add wiggle to the transition to fit the camera movement in your video.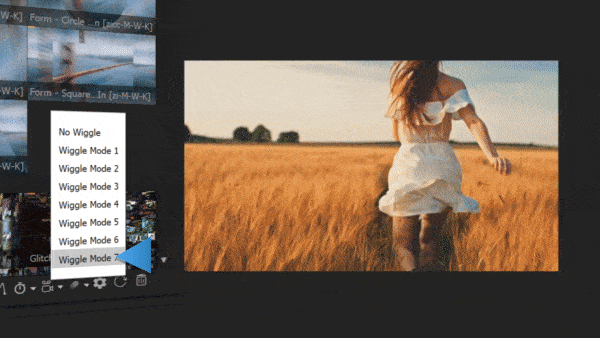 Make It Smooth!
Add blur to your transitions to add a sense of speed and smoothness into your video.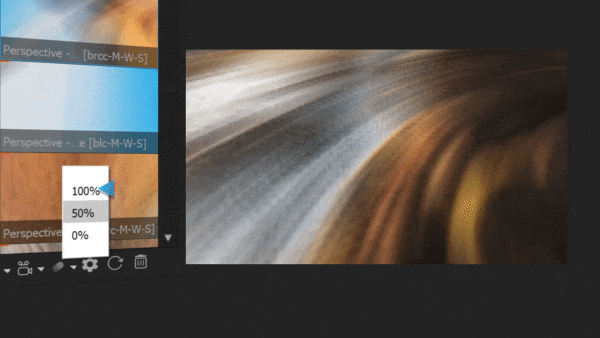 Creative tutorial in After Effects
How to use in Premiere Pro?
| | |
| --- | --- |
| After Effects | CS6*, CC 12*, CC 2014* (*old versions are supported in a form of After Effects project without the plugin and provided as is), CC 2015, CC 2017, CC 2018, CC 2019, CC 2020, CC 2021, CC 2022 or higher. |
| Premiere Pro | CC 2021, CC 2022 or higher |
| | |
| --- | --- |
| After Effects Resolution | Resizable |
| After Effects FPS | 30 |
| After Effects Files Included | After Effects Project Files, Plugin Files |
| After Effects File Size | 182MB |
| Premiere Pro Resolution | Resizable |
| Premiere Pro FPS | 30 |
| Premiere Pro Files Included | Premiere Pro Project Files, Plugin Files |
| Premiere Pro File Size | 200MB |
1.06 (Current version) - January 07, 2021
Bug fixes and minor improvements.