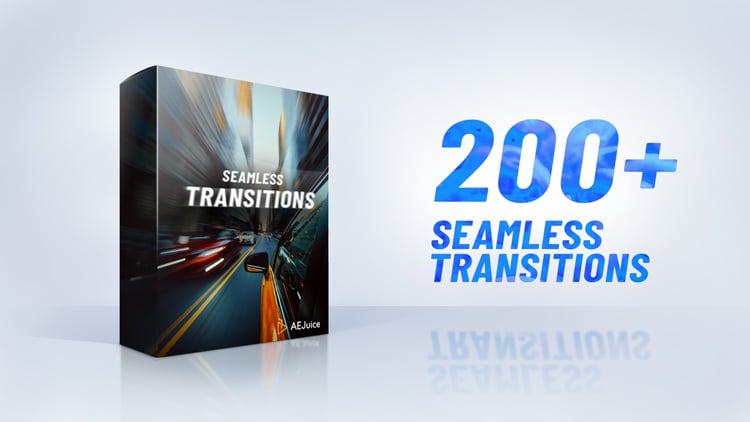 Details
A pack of 1600+ Seamless Transitions for After Effects.
Features:
NO Placeholders! Just Drag n Drop!

1600+ seamless transitions
15 categories (Basic Transitions, Blur, Fade, FishEye, Flares, Form, Glitch, Hit, Lense, Offset, Pixelate, Shake, Stretch, Tab, Cursor, Warp)

Made of 100% After Effects

All Pack Manager features (fast preview, drag and drop import, favorites, etc.)

High-speed download
New features from October (2019) update:
1400+ new transitions!
Find transitions faster with a new filter system – click on the direction ("Left", "Right", "Clockwise", etc.) and you'll see only transitions you need
Apply wiggle to all transitions in 1 click
3 new styles to give your transitions the best look
Apply motion blur to all transitions in 1 click, makes your transitions look cooler!
The new animate button will do the hard work for you! Select a layer or a lot of layers and press the animate button, it will pick transitions, apply them to your layers and adjust transitions on the timeline for you!
The new slides button will create a perfect slideshow with your music, photos, and videos in 1 minute. Your slideshow will be perfectly matched with your music. You can also create a slideshow for all platforms at once (Instagram, Facebook, YouTube) with a push of a button!
The reset button will return all settings to default
The new shortcut allows you to apply the animate button without even launching the plugin. It will help when you need a transition fast! You can even specify to only use transitions from your favorites!
New bounce transitions
What resolutions are included:
FullHD – 1920×1080
HD – 1280×720
Vertical – 1080×1920
Instagram – 1080×1080
Instagram Ads – 1080×1350
GoPro – 2704×1520
DCP Flat – 1998×1080
DCP 4K Scope – 4096×1716
DCP 4K Flat – 3996×2160
DCP 2K Scope – 2048×858
4K UltraHD – 3840×2160
4K Full Frame – 4096×3072
4K DCI – 4096×2160
4K Academy – 3656×2664
6K – 6144×2592
Any custom resolution, drag n drop and the transition will auto-resize!
Requirements:
After Effects CS6, CC 12, CC 2014, CC 2015, CC 2017, CC 2018 or CC 2019.
$49
Try it free
Bundle and save $492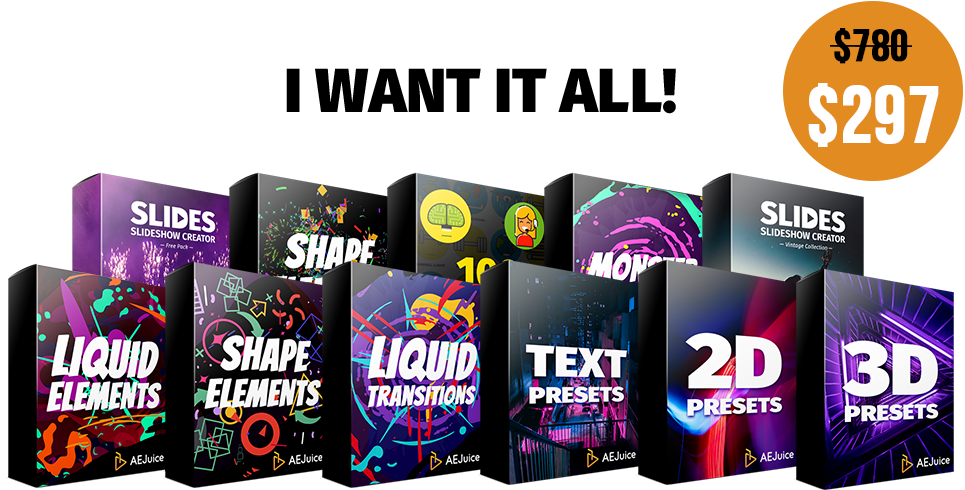 Add to cart $ 297